Back to News
OHHC Holds Open House for new Woodsfield Location
Posted 10/22/21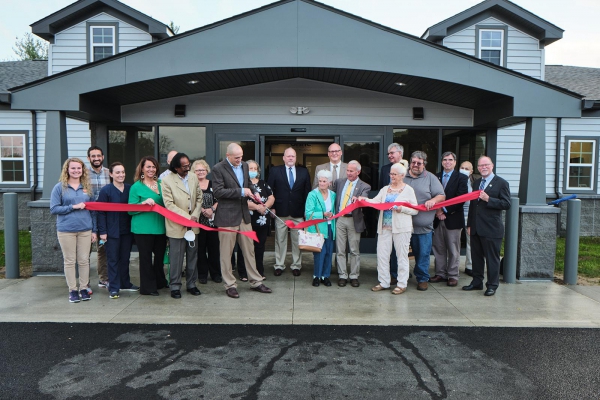 The new Ohio Hills Health Center-Woodsfield held a Ribbon Cutting and Open House on Thursday, October 21st at 5 PM.
"Ohio Hills Health Services is extremely pleased to open the new health care facility in Woodsfield and to offer affordable and accessible healthcare for area residents," said Jeff Britton, CEO, OHHC. "This new facility will offer expanded hours, including evening hours, to better meet the needs of the community."
OHHC-Woodsfield is located at 584 Lewisville Road, Woodsfield, Ohio. The Ribbon Cutting occured at 5pm and was followed by a tour of the facility.
Dr. John Cain, who has his own private dental practice, and First Settlement Physical Therapy will also have offices in this new facility. Specialty physicians and telehealth options to connect patients with larger medical facilities such as The Ohio State University Wexner Medical Center are also being explored.
"We are extremely grateful to the community for the support we have received. This is a project that will provide tremendous benefit to area residents," said Brent Tisher, OHHC Board member. "I encourage everyone to stop out and to tour the new facility."
Funding through the USDA and the Appalachian Regional Commission made this new facility a reality.
Health care providers at OHHC-Woodsfield include Dr. Ron Williamson, Dr. Holly Overmiller, Kaitlin Miller, Physician Assistant, and Jenna Brown, Family Nurse Practitioner. New patients are being accepted. The new facility will replace the Airport Road location beginning on November 1st. For information or to schedule an appointment call 740-239-6447.