Back to News
Ohio Hills Health Centers Receives Grant from Cause Connector Through the Foundation for Appalachian Ohio
Posted 06/03/22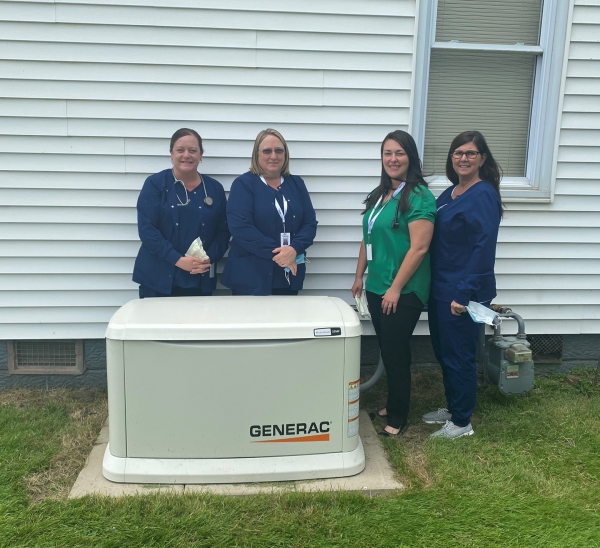 Ohio Hills Health Centers (OHHC) is pleased to announce it received a $5,000 grant from the Foundation for Appalachian Ohio (FAO) Cause Connector to purchase a generator for the Quaker City Family Health Center. Cause Connector is a charitable matchmaking site, created to help more donors support local nonprofit projects in Appalachian Ohio.
Healthcare should be available and accessible when communities have the greatest needs and that includes during times of a natural disaster. However, to remain open during a disaster the OHHC Health Centers need to have a generator to power lights, heating and cooling, medical equipment, and other necessities such as refrigerators which store lifesaving vaccines. The grant funds from the FAO supported the purchase of a generator for OHHC-Quaker City.
"The pandemic has emphasized the importance of being prepared in case of all types of emergencies," said Jeff Britton, CEO, OHHC. "During the past year our goal has been to equip each of our 5 Health Centers with a back-up generator and OHHC-Quaker City was the last Health Center requiring a generator. Thanks to the generous support of the FAO and Cause Connector all of our health centers now have generators allowing us to keep the doors open during power outages."
Quaker City, Ohio is a medically underserved region and a health professional shortage area. OHHC-Quaker City plays an important role in the community ensuring that health care is accessible and affordable. The addition of the generator ensures that the provision of healthcare can continue even during weather emergencies.
"We created Cause Connector to connect donors who want to make a difference with investment-ready projects in our local communities, like the new generator for Quaker City Family Health Center," said Cara Dingus Brook, FAO's president and CEO. "Our region is full of leaders with innovative solutions and ideas for helping others, and we're thrilled to be able to connect nonprofits like Ohio Hills Health Centers with donors who can make those ideas come to life."
The Foundation for Appalachian Ohio is a regional community foundation serving the 32 counties of Appalachian Ohio. With the mission of creating opportunities for Appalachian Ohio's citizens and communities by inspiring and supporting philanthropy FAO partners with donors, nonprofits, and communities across the region. By growing philanthropic resources, convening partners around issues of importance, and awarding grants, FAO is working to ensure Appalachian Ohio is a region abundant in possibility.
OHHC-Quaker City is accepting new patients. All major insurances including Medicare and Medicaid are accepted. In additional OHHC offers a Patient Discount Program for those who meet eligibility guidelines. For information or an appointment call 740-239-6447.
Photo: OHHC- Quaker City staff (l-r) Valarie Bundy, MA; Kim Overly, LPN, Site Coordinator; Staci Fellows, APRN, CNP, FNP-BC, Board Certified Family Nurse Practitioner and Renay Shepherd, Front Desk Receptionist