Patient Portal Access
---
When you provide an email address to the Receptionist, you will get an email titled "Ohio Hills Health Centers - *Important* Patient Portal Access Information"
About 30 minutes after the Receptionist enters your email into your electronic health record (EHR), you will receive a welcome email similar to the one below. This email will provide you with the web address and login information to the Patient Portal.
https://www.ohiohillshealthcenters.com/patient-portal
There are 2 ways to enter the Patient Portal:
1. From the email:
a. Click Set Up Portal Account: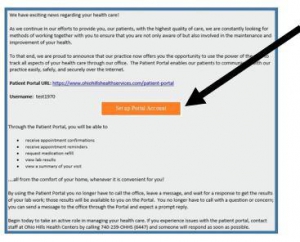 b. Validate the user through voice or text: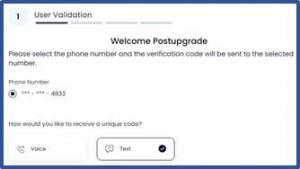 2. On the Ohio Hill Health Centers homepage, https://www.ohiohillshealthcenters.com/:
a. Click the blue Patient Portal button in the top toolbar
b. Click the blue box in the center to Launch the Patient Portal



c. In the blue box on the right, enter your login information
* User name - test 1970
* Password - Ohio 2022!
d. Click Login
e. A screen will appear for User Validation
For additional information or for assistance, please call Peggy Douglass, EHR Coordinator at (740) 239-6447, ext. 1039.